Divi Website Designer Services
Professional Divi Web Design Agency and Theme Expert
Divi includes highly configurable modules, that can drag and drop into pages. It is easy to edit and design. Web design is really important and divi gives full control of designing. Check out our Elegant theme or Divi theme expert Services.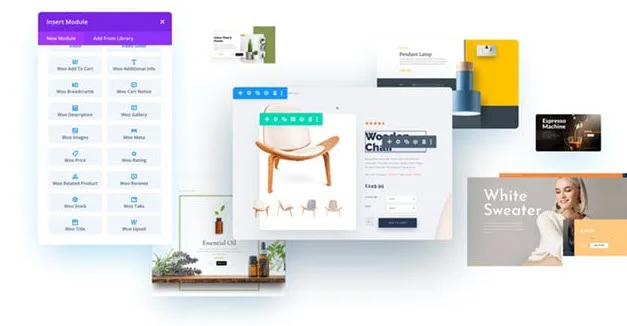 Make Professional Websites
We Make Professional Divi Websites because we have an expert divi website designer team.
Redesign or Existing Site Design
MC Starters help redesign the new website and existing. It help to optimize website.
PSD to WordPress Conversion
We provide PSD to WordPress services using the Divi theme with 100% accuracy.
Divi Web Design Agency
We are a Top Rated WordPress Divi Web Design Agency with 6 years of experience in the Web industry. We make any type of website with Divi. We also provide Free Elementor Templates and Divi templates which help clients to make websites in less time.
Mc Starters is a full-service web design agency. We make WordPress websites with a fresh layout and SEO friendly structure. We are also part of Upwork, Fiverr and freelancer. Love to work as an agency and an individual freelancer.

Make Professional Divi Websites
Mc Starters is a Website Design Agency that has a team of Divi Experts. We also make free Divi templates. Divi or Elegant theme is the best wordpress theme. Easy to use and code optimization are the top features of the Divi theme. Divi includes all necessary modules that we need to make any type of website. Our team includes divi developers and divi designers who take care of every aspect of websites.
Redesign Divi Website or Existing Site Design
Website speed is the standard ranking point of any website. Divi theme is the best for speed optimization. We highly recommend redesigning the website with a Divi theme. Mc Starters team help to redesign the website. We also redesign the existing website and take care of SEO if your website already ranks. We redesign all pages with the same URL and internal link in the Divi theme. It will help to maintain SEO and ranking.
Divi Theme PSD to WordPress Services
Most designers make website PSD files. We will help you to convert the PSD files to a fully functional website. Quality and accuracy are our main features that love our clients.
Divi Landing Page Design Services
The landing page is a standalone web page, created for a marketing or advertising campaign. Optimize landing page help to collect lead and grow your digital & local business. We build a landing page using the Divi theme and set up optin Email.
Explore More Related Services
Frequently Asked Question
Check out our FAQs to learn how our process and payment system work.
Is Divi theme paid?
Yes, Divi is a Paid theme.
How much does the Divi Expert cost?
The cost of Divi Expert depends on Project but here below check out some points regarding cost.
Make a 3-page website for $80
Every Page has a 6 section
Professional and Responsive Design
How Payment Process Work For Website Project?
We Start Contract through Upwork Direct Contract System. You don't need to create an account for this. You can just pay using Paypal or Credit Card easily after complete 60% Website.